This episode continues where the first left off, three more visits to go.
TechEd North America 2012, Orlando, FL.
Printing made up a big part of this Teched and its European counterpart this year.  I'd planned to volunteer, like usual, but I got a request from Paulette before the call for volunteers was sent out.  Her ideas for the MVP booth involved a high priced, dye sublimation photo printer she wanted to use and it was being problematic, she needed someone who knew printers to come keep an eye on things, would I be available for both the North American and European TechEds to do this?  Oh yeah, I can do that, Orlando, followed by Amsterdam a few months later!!!  Paulette's plan was to make photo cards for everyone who stopped by the booth and wanted one.  The setup she had was, to me, really straightforward, a two-computer local Workgroup network with the camera attached to one computer and the fancy printer attached to the other.  The big issue she had was that she couldn't print across the network, though she could print fine from computer attached to the printer.  By the time I arrived on scene, she'd already had it examined by a number of Microsoft's technical folks, none of whom were able to make it work – time to play Printing MVP.
Printing 101 – Install the printer drivers, if they don't come in-box with Windows, and ALWAYS check for any README files, they usually have important information you need to read.  Step number one had certainly been done, the printer printed fine locally and was visible from both machines.  Step number two apparently did NOT happen because it clearly stated one needed to check the manufacturer's website for updated drivers.  I did so, and found they indeed did have updated drivers which I downloaded and installed.  I just LOVE it when simple fixes solve major problems, she could now print from both computers just fine.  I felt both happy and sad, overjoyed that I'd fixed the problem, but sad because I was afraid that, since the problem had such a simple solution, TechEd Europe and Amsterdam might now be out of the picture.  My concerns were for naught, I'd just cemented my position with Paulette, Amsterdam absolutely would happen!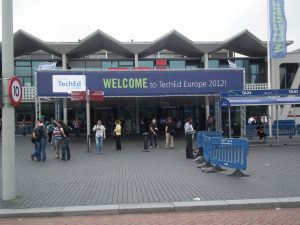 TechEd Europe 2012, Amsterdam.
A few weeks go by and we're off to Amsterdam.  Of all the trips to new places I've made, this is, by far, the most wonderful place I've visited.  I was delighted that here was enough time to play tourist.  Our hotel was right on one of the canals, you could walk out the back door and climb into a waiting tour boat.  There's also something to be said about sitting in a small café with a couple from England enjoying a beer and discussing the world at large while watching the sun set a few minutes after 10:00 PM!
I thought the MVP booth network/printer setup would amount to little more than setting up the equipment from Orlando and going for it.  It was a bit more complicated that that, while I had the same computers, they'd been wiped and the OS re-installed, so I had to go get drivers from the printer factory website again.  Beyond that, everything worked as advertised, no network printing issues at all.
I had a secondary job this trip, blogging.  I actually started this at the end of the Orlando trip when I was asked to a "Week In Review" for my experiences at TechEd North America.  The article was well received, and I was asked to do several more for Europe.  Much to my surprise, these articles are still available in the MSDN Blog, have a look:
TechEd Week-in Review from Windows Expert–Consumer MVP Hal Hostetler
TechEd Europe Expectations from Windows Expert–Consumer MVP Hal Hostetler
Impressions of TechEd Europe 2012
TechEd North America 2013, Houston, Tx.
This one took me by surprise.  I had volunteered for staffing as I always do and had already received the infamous "There were so many volunteers this year, we're sorry, but you were not selected" email, so I had no plans to attend it.  Those non-plans abruptly changed when I received an email from JP Clemente, my CPM at the time.  He'd recently undergone surgery, was still regaining his mobility, and really needed help with the Communities booth, was there any chance I could come help him with it?  Mind you, this email arrived the Thursday afternoon before the event was set to start on the following Monday.  Well, he totally had me at "need help", no way on Earth was I going to let him down
That left me the weekend to figure out how to get there and back and to find somewhere to stay, a daunting task, to say the least!  Fortune was with me however, I actually found flights that didn't require a second mortgage on the house and a cozy little motel less than a mile away from the convention center.  JP had a rental car and provided all the logistics, so all I had to do was sit in the booth, smile, greet folks, and tell them all about the MVP Program if they asked; a good many did!  I really enjoyed this trip!
Ignite 2015, Chicago Il.
I volunteered for this event, as I always do, and was briefly delighted when I was selected to go.  My joy quickly turned to despair, however, when I started looking for housing.  In spite of the fact that the Microsoft contract hotels are pricey, even with the Microsoft discount, I'd always been able to find a hotel/motel close to the event thrifty enough to fit my budget – not this time.  even the small places were $400+ a night!  Those that fit the budget were 25-30 miles away.  I searched and searched, but, in the long run, I wasn't able to find one, so I didn't go and that vexes me to this day.  The very next year, Ignite moved to Orlando, Fl., where its been ever since, so housing shouldn't be an issue, if I'm ever selected again.  I wasn't selected 2016, 2017, and 2018, but I'll be volunteering again this year, so we'll see.
Wrap up
TechEd/Ignite is an experience every MVP should get to enjoy at least once.  The problem is the cost involved, and I've shown that issue can be circumvented.  Once you get there, you're in for time of your life.  Learning is the main concept behind the event and that' you'll do whether you get to attend sessions or not.  You'll make new friends from around the globe and be filled with more concepts, new ideas, and relationships than you ever thought possible!
My next article is tips, tricks, new concepts and ideas I've picked up that should enhance your Ignite trip, stay tuned.